The Intel Core i5-3570K processor is a powerful wholesale option for both personal and commercial use, offering exceptional performance and efficiency. With its high processing speed and advanced features, it is an ideal choice for various applications, including gaming, multimedia content creation, and demanding business tasks.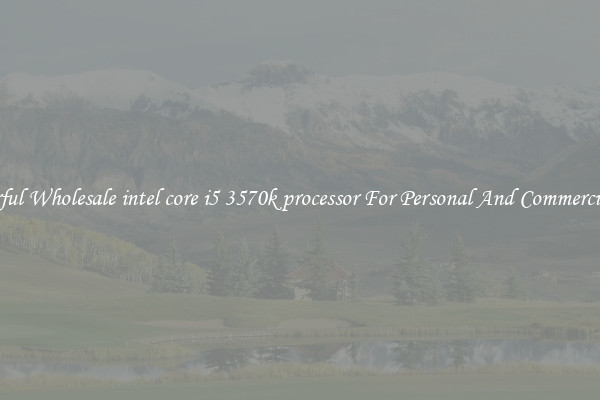 One of the key highlights of the Intel Core i5-3570K processor is its impressive clock speed. With a base frequency of 3.4 GHz and the ability to reach up to 3.8 GHz using Turbo Boost technology, it provides quick and responsive performance, ensuring seamless multitasking and smooth execution of resource-intensive applications.
Another notable feature of this processor is its quad-core configuration. With four physical cores and four threads, it can handle multiple tasks simultaneously, resulting in enhanced productivity and improved overall system responsiveness. Whether you are playing the latest games, editing videos, or running complex business applications, the 3570K processor can handle it all with ease.
Furthermore, the Intel Core i5-3570K processor offers excellent graphics capabilities with integrated Intel HD Graphics 4000. This allows for smooth video playback, gaming, and even some light graphics editing without the need for a separate dedicated graphics card. This feature makes it an ideal choice for personal use, as well as small businesses that require moderate graphics performance.
The 3570K processor is also built on a 22-nanometer manufacturing process, which enables it to operate with lower power consumption while delivering optimal performance. This energy-efficient design not only helps reduce electricity costs but also minimizes heat generation, resulting in quieter and cooler system operation.
Additionally, the Intel Core i5-3570K processor supports advanced technologies such as Intel Virtualization Technology, which allows users to run multiple operating systems and applications simultaneously, and Intel Quick Sync Video, which enables accelerated video encoding and decoding for faster multimedia processing.
In conclusion, the Intel Core i5-3570K processor is a powerful wholesale option for personal and commercial use. Its high clock speed, quad-core configuration, integrated graphics, energy efficiency, and support for advanced technologies make it a versatile choice for a wide range of applications. Whether it's gaming, content creation, or demanding business tasks, the 3570K processor delivers exceptional performance and efficiency, making it the ideal choice for those seeking a powerful wholesale processor solution.